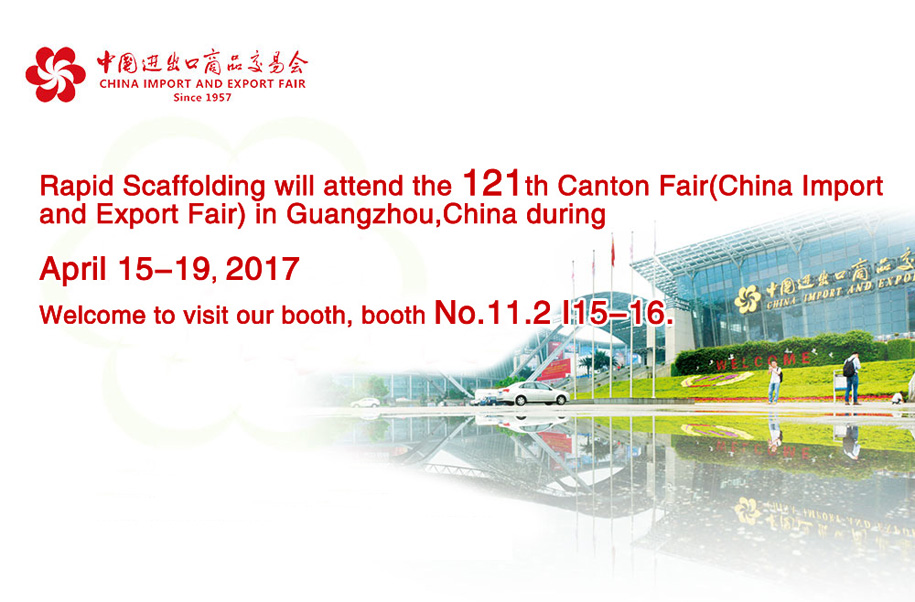 The 121st Canton Fair will be held in Guangzhou from April 15th to May 5th. The first phase starts from April 15th to 19th, which includes electronics and home appliances, lighting, vehicle and accessories, machinery, hardware tools, building material, chemical products and new energy.
Rapid Scaffolding (Engineering) Co., Ltd. is an integrated national high technology company, which is focused on the design, production, selling, design consolation, rental, construction and technology service of scaffolding and system formwork. Our products include the ringlock system, octagonlock system, cuplock system, kwikstage system, frame, aluminum tower and post shore. The products have been exported to America, Brazil, Canada, France, Israel, Chile, Slovakia, Thailand, Korea and Australia.
Welcome to our booth on 11.2 I15-11.2 I16. Please contact us if there is any demand.
Contact: +86-(0)510-83796833; +86-18800563652
Email: sales@rapid-scaffold.com
Website: www.rapid-scaffold.com/en